JClyde's crew were hit by flak 1-13-45 during a mission in Mannheim, Germany, in the right wing. Their B17 caught fire, and the crew was ordered to bail out. The plane blew up one minute later. Clyde's crew fell into a little town called Kornburg. Clyde landed in a tree, and when he came to the Germans were waiting. The Ball Turret gunner broke his leg. They had to walk through snow four-inch thick with only a crew of three; it was hard to walk with flight clothes on and carrying their B.T. crewman. They went to a small town where they were greeted by people that spat on them. Luckily the crew was moved fast. They were later taken to a camp called Wetzler just to keep them from freezing to death.
A day later they were taken to Oberursel, an Interrogation Center. Clyde spent one week there. He was fed by slipping a plate of food under the door, treating them like they were dogs, and the food was bad. Clyde left there and went through Frankfurt R.R. Station. He was attacked by a civilian who twisted his arm and messed it up. From there he was sent to Nurenburg 13B and 13D Stalag where they were in a building with bunks three-high. Two men had to sleep with one another on a bed of straw just wide enough for one person. Lice were rampant, and it was pure hell!
Clyde and others were so hungry all the time, they hardly had time to think of their families. Clyde and others later received two Red Cross parcels. At times Clyde was so weak he couldn't get to bathroom in time. The time he spent as a POW messed his mind up. When Clyde was walking around the compound he remembers a young boy, 19 years old, that went wild and ran to climb the fence and was shot dead as he got over the last strand. Never to this day did Clyde forget this trauma. He is now 76 years old. One time he was late getting out in the snow for count and was beaten across his back. One time an American comrade fell into the toilet. Clyde and others had to get down in the mess to pull him out -- (very stinky). They were mostly with British, who bellyached all the time.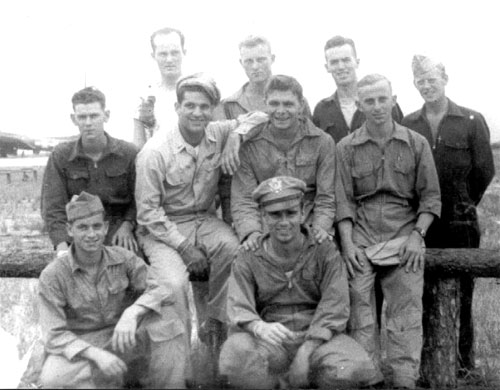 Jack W. Rose crew: 427th BS (crew assigned 427BS: 23 Sep 1944) (Back L-R) 2 Lt. John "Tex" Cornyn (B), unknown, S/Sgt Clyde J. Cottle, Jr. (TG), S/Sgt Lynn M. Brinkley (BT) (Middle) S/Sgt Warren G. Yates (VI), 2Lt John K. Nazarian (B), 1 Lt Jack W. Rose (P), unknown (Front L-R) T/Sgt Flake S. Dyson (E), 2 Lt William D. Russo (N)