Rudy Froeschle was born in Hazen, ND on June 2, 1922 the son of Gottlob and Laura Froeschle,German immigrants. His father migrated from Stuttgart,Germany in 1912 at the age of 19. He had been an apprentice cabinetmaker. Rudy's mother, the former Laura Hornberger of Landau, Pfalz, Germany, migrated two years later at the age of 22. They were married the day after her arrival in St. Paul MN on July 31, 1914 (the day that WWI started).
Their first son, Ferdinand was born in St. Paul on May 21, 1916. When the U.S. entered the war in 1917 they were given the option of returning to Germany or living distant from any metropolitan area. They chose to go to North Dakota where Gottlob found employment in a grain elevator in Hazen. Their second son, Helmuth, was born April 17, 1919.
Several years after Rudy was born the family took in a 10-year-old foster child, Eva Hoffman, who lived with them until she graduated from high school. Eva went on to become a registered nurse. She had a strong influence on Rudy, since she did not speak German, and taught Rudy to speak English in a home where German was spoken while an infant. In 1930 Rudy's mother took her three sons to France and Germany for a 5 month stay with relatives.
Rudy completed high school in Hazen in 1940. He and his brother, Helmuth, became Eagle Scouts in 1938, the first Eagle Scouts in Hazen. Rudy enrolled in engineering at North Dakota Agricultural College (now NDSU) in Fargo. He took Civilian Pilot Training in college as well as ROTC. At the time of Pearl Harbor, December 7, 1941, he was in his second year of college and completed the Winter Quarter. He enlisted on February 14, 1942 in the Aviation Cadet program but was placed on furlough-unassigned until August.
In August, 1942, he went to the induction center at Ft. Snelling, MN. Then to Classification Center in Nashville, TN. From there to Maxwell Field, AL, but was quickly transferred to Kelly Field in San Antonio, TX. He took preflight training at "Upper Kelly" (Later this was named Lackland), primary at Coleman, basic at San Angelo, and advanced twin engine training at Waco. He received his Wings on May 26, 1943. After brief training in B-17's as a copilot in mostly the state of Washington, he headed for Germany in July, 1943. They flew from Kearney, Nebraska to Syracuse, NY, Bangor ME and Gander Lake, Newfoundland on the way to Prestwick, Scotland. They traveled by train to Watford, a suburb north of London, to Bovington for further training. They joined the 384th BG, 544th SQ. at Grafton-Underwood, England in August of 1943.
On September 6, 1943, his second mission (over Stuttgart, his father's hometown) they were shot down. He parachuted to the ground and struck a high-tension line with his parachute. The chute collapsed, and he sustained a number of injuries including loss of consciousness. On coming to, he was aware that German "home guards" were standing over him debating if he was German or something else. Being able to speak German he tried to fake it but couldn't name an airbase. They then said, "Ah, ha, Englander," and he replied "Nein, Amerikaner." And they replied, "Nord oder Sued," to which he answered "Nord." They then said, "Kanada," and the reply was "Nein, Vereinichten Staaten" (United States).
He was taken prisoner in Alcase Lorraine, which was occupied by the Germans. He was interrogated at St. Avold, spent the first night in a jail at Metz and was then taken to Dulag Luft for further interrogation at Wetzlar, near Frankfurt. After several weeks they were taken to Stalag Luft III by boxcars. While in Stalag Luft III he taught a course in conversational German and German grammar and literature in Kreigie Kollege. He also obtained a trombone from the YMCA representative, which was "stolen" and became famous for being the top of the still that was portrayed in the movie "THE GREAT ESCAPE". Froeschle also sang with the Center Camp Chorus and was active as a translator and interpreter. He lived in Block 43 throughout his stay.
His navigator, Lesta (Tex) Shackelford, and bombardier, Art Dinndorf, lived with him. A fellow member of the 384th B.G., Justin Jones, (and the officers of his crew) lived together in the same portion of the barracks called Combine 6. The Combine grew to 16 members by January of 1945. At the end of January the camp was evacuated and the prisoners were forced to march in freezing weather and snow. Wearing bowling shoes and a pair of rubber overshoes while marching Rudy suffered from severe frostbite to the feet and lower limbs. This march lasted 10 days before the prisoners were placed in boxcars and transported to a camp near Moosberg, north of Munich in Southern Germany, Stalag VII-A. They remained there until liberated on April 29, 1945.
Rudy was married shortly after returning home in July, 1945, to Mildred Schow of Stanton, ND. Following his discharge from the Army Air Corps in January 1946, Rudy completed studies for pre-medical education at North Dakota Agricultural College (now NDSU) in Fargo. He attended the University of Illinois College of Medicine in Chicago from 1947 to 1951 where he received a degree as Doctor of Medicine. He interned at Milwaukee County General Hospital for one year.
Rudy and Mildred had four children, Laura, 1951; Martha, 1954; Bertha, 1957; and Philip, 1959. He practiced medicine in Sparta, WI, June 1952 to June 1953, and then he moved to Tioga, ND, (an area where oil had recently been discovered and the nearest physician was 30 miles away).
After several months a friend, Bob Cranston, who had also been in general practice in Wisconsin, joined him. The two remained in Tioga until July 1955 when Rudy moved to his hometown of Hazen and Bob took a residency in neurosurgery at the University of Wisconsin.
Rudy remained in Hazen until 1962 when his partnership broke up and he took a residency at the University of Wisconsin in Anesthesiology. He completed the residency in 1964 and took a position with Geigy Pharmaceuticals in Ardsley, NY and taught part-time in the Anesthesia Department at Columbia-Presbyterian Hospital in Manhattan.
In 1966 Rudy was divorced and later that year married Judy Wiggins, of Yonkers, NY. In January of 1968 they moved to Waukesha, WI where he became a member of the Department of Anesthesia at Waukesha Memorial Hospital. Rudy became affiliated with the Anesthesia Dept. at Marquette University and remained on its staff after it became the Medical College of Wisconsin in Milwaukee.
He and Judy have two children, Heidi, 1969, and Peter, 1970.
Rudy returned to Germany 5 times after WWII, and on a visit in 1979 went to the sites where he was shot down and captured. A French lady had saved a piece of the B-17 for years, and it was mailed to him after his visit. He also visited the monument that remains at Stalag VII-A near Munich.
In a recent TV documentary on the History Channel called Great Escapes of World War II, A photo of Rudy is shown with his tin can cooking stove next to the barbed wire fence, while the narrator talks about mental depression in the prisoners. The photo is seen just six minutes after the film begans.
Rudy had a lifelong interest in music and played trombone in high school and college bands. He also played in several combos while in high school, such as Bill Gutknecht and His Royal Foot Warmers. Also played with Roland and His Buddies. While in college he played with the Fargo-Moorhead Symphony, and then in the Medical Center Symphony in Chicago. He also played in Lee Perry's BIG BAND for four years while in medical school. He continues to play with various dance bands in Ft. Myers.
Rudy was a State Vice President of the Junior Chamber of Commerce in North Dakota. He served on the Park Commission of Hazen ND for 6 years, active in improving the airport and the parks system in general. He was President of the 6th District Medical Society in Bismarck. He was also a member of the Board of Directors of the International Peace Garden between North Dakota and Canada. He served as Chairman of the Republican Party of Mercer-Oliver-Dunn counties.
He was President of the State Anesthesiology Society in Wisconsin, President of the Waukesha County Medical Society, President of the Milwaukee County Anesthesiology Society, and served on The Board of Directors of the American Society of Anesthesiology as an alternate director and as a director for 12 years. Rudy was a member of the medical alumni board of the U. of Illinois College of Medicine for 9 years and then served as President of the Medical Alumni for one year, followed by a year on the board as past president. In June of 1988 he was one of 6 who received the Illinois Loyalty Award for that year. He served on various committees of the State Medical Society of Wisconsin.
After retirement to Ft. Myers, FL, he served as Commodore of the Cape Coral Sailing Club. He has also been active in a pilot's fraternity, The Quiet Birdmen. He served as Governor of the QB's Ft Myers Hangar from July 2000 to January 2002. He also belongs to the EAA.
He is a member of the American Legion, the DAV, The Military Order of World Wars and the EX-POW organization. Rudy has been active in POW Reunions and still holds an annual reunion of members of his barracks, Block 43, Stalag Luft III in his home each winter.
At the October, 2007 Homecoming at North Dakota State University, Rudy was named the Gold Star Band Alumnus of the Year and was honored in the Homecoming Parade.
In 2009 Rudy spent 4 days at the National Prisoner of War Museum at Andersonville, GA answering questions in the lobby for visitors to the Museum. He recently joined the Electric Toasters Club #5701 of Toastmasters International trying to improve his skills at communicating with those interested in WWII POW history.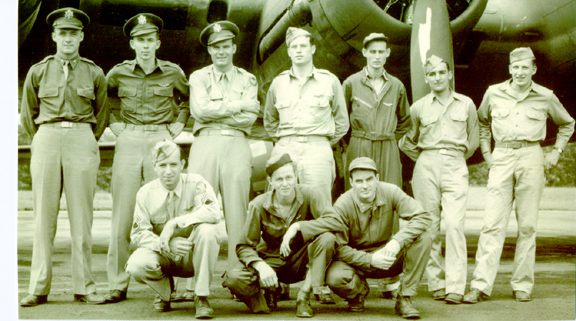 Crew of B-17 L to R - Jim McMahon, Pilot; Rudy Froeschle, Co-Pilot; Les Shackelford, Navigator; Art Dinndorf, Bombardier; Sam Jessup, 2nd Engineer; Marcus Carr, 1st radioman; Jim Savage, Waist Gunner; Kneeling - L to R - Bob Stahlhut, 1st Engeneer; John Tripp, 2nd radioman; George Kemp, Tail Gunner