Steve Ketzer, sixteen years old in July 1940, lied about his age and joined the Army.
Steve's parents were divorced. the Army got him out of a difficult situation at home. He was trained as a scout, to ride and repair motorcycles, then assigned to a recon company with the 1st Armored Regiment, 1st Armored Division.
He was shipped to Carrickfergus, Northern Ireland in 1942 to continue training and prepare for D-Day. In the meantime, a battalion of U.S. Army commandos was being formed, later to be called Rangers --Darby's Rangers -- and a call went out for volunteers. Steve volunteered, passed the initial interviews and tests, and was sent with the new Ranger Battalion to Achnacarry, Scotland to be trained under British Commandos.
He survived that training, and was with the Rangers when they spearheaded the landing at Arzew, Algeria in North Africa. The Rangers continued to conduct raids, but mostly stood down in Arzew while the main body of U.S. forces came ashore. During that time, Steve went AWOL to see the coast line, and upon his return Darby busted him to private and threw him in Arzew's old world dungeon. He was temporarily reattached to a recon company with the 1st Armored Regiment (this probably had less to do with his being busted than with a desire for action).
Steve was scouting with a buddy riding in the sidecar behind enemy lines near Faid Pass when Rommel started his push toward Kasserine Pass. Steve and his buddy rode across the desert and were strafed by a German fighter but managed to escape.
It was February 14, and they were attempting to get back to the front line or to where their outfit was last bivouacked. When they did, they found the area was then held by Germans, not Americans. The Germans machine-gunned the motorcycle, killing Steve's buddy, and seriously wounding Steve in the left leg.
At the time of his capture, he was wearing a leather bomber jacket with Lt. Colonel Oak Leafs which was given to him by a bomber pilot whom he had earlier rescued and driven back to the front lines. The Germans assumed he was an officer. He gave his correct name, rank and serial number, but they refused to believe him. Consequently, he was given special treatment and flown in a German Junker to Naples. Shortly thereafter, the Germans discovered through the Red Cross that he was a private and not a Lt. Colonel. Steve was thrown in with the enlisted POWs. He couldn't recall all the prison camps he was in, but recorded them on his War Benefits Application Form as follows:
From Kasserine Pass to city of Tunis. From Tunis to Naples, Italy. From Naples to P.W. Camp 7A(?) Germany. From 7A to P.W. Camp 5B. From there to P.W. Camp 2B. From there to 10C(?). From there I was liberated.
Soon after his capture, German doctors wanted to amputate his left leg, but Steve refused. He allowed the doctors to experiment on him by laying in a bone graft, and it worked although the left leg was then a bit shorter than the right and developed a blood clot in 1958 that nearly killed him.
Steve spent most of his time at Stalag 2B, where he learned to act and play the upright bass, or bass fiddle (Steve Ketzer, is mentioned in Edwin Suominen's book, "Twice to Freedom: Stalag 2B"). He had a beautiful voice and sang Blues, Jazz and Swing. He escaped three times, once staying free for a month, but was recaptured. On his last attempt, the Germans promised to kill him if he tried it again. He didn't. When Darby's Rangers were wiped out at Cisterna, Italy, owing to bad U.S. intelligence, a few Rangers taken prisoner filtered into Stalag 2B, and Steve was reunited with them.
Along with the other POWs at 10C, Steve was liberated by British troops on April 28, 1945. He was discharged at Camp Chaffee in Arkansas on August 15, 1945, and returned to Hot Springs, Arkansas, in 1940 or 41, where he spent time in the Army/Navy Hospital recuperating from a broken leg suffered during training exercises in Louisiana.
He met Jane Kilby at the hospital, a doughnut dolly and the love of his life. Alas, when he returned to Hot Springs in 1945, Jane had married a sailor (thinking Steve dead). Steve stayed in Hot Springs, lived with Jane's parents and for six months played bass and sang in a jazz quartet that performed in Arkansas and Texas. Caught up in the jazz life, he was either in trouble, or saw himself heading in that direction. He re-enlisted and joined the Army Air Corps for a three-year stint on February 1, 1946. He was sent to Okinawa. They didn't know where to place an ex-POW Ranger, so they made him the base fire marshal.
Soon his musical talents were discovered and he was put on detached service to the Special Services Detachment and played bass, acted and sang in the Soldier Show Program at the Ernie Pyle Theatre in Tokyo, where he performed in the musical revues, "Tico-Tico" and "On the Midway." He appeared in performances presented on tours of military installations in Northern and Southern Japan and the Philippines.
Steve was shipped back to the States, to Barksdale in 1948, at which point he took up flying and earned a private pilot's certificate. He later added commercial pilot and multi-engine. He still rode motorcycles and owned a Harley-Davidson until age 62. On February 1, 1949, after discharge from the Army Air Corps, Steve found and married Jane Kilby, who by then had two sons from her previous marriage. Charles and Jerry, and Steve Jr. came along eleven months later. Steve moved the family to Long Beach, California in 1952, where he attended Long Beach City College and earned his aircraft mechanic Airframe and Powerplant Certificate. He landed a job with Douglas Aircraft and worked in Experimental and Testing during the design and construction of the DC-8.
He held down a second job at Sunset Beach working on general aviation aircraft, which he loved to build and fly. In 1961, he moved the family back to Hot Springs and started an aircraft maintenance and charter business. He worked in aviation for the remainder of his life to support his habits of flying, motorcycle riding, boat racing, and touring the United States in a big RV.
Once asked what freedom meant to him, he replied, "To be able to go where I want to go when I want to go." And go he did, at 100 MPH, non-stop until he reluctantly returned to God in 1993. He paid for freedom, and he enjoyed it. He had a ball. We had a ball. I sure miss him.
Steve Ketzer, Jr. 07/06/2002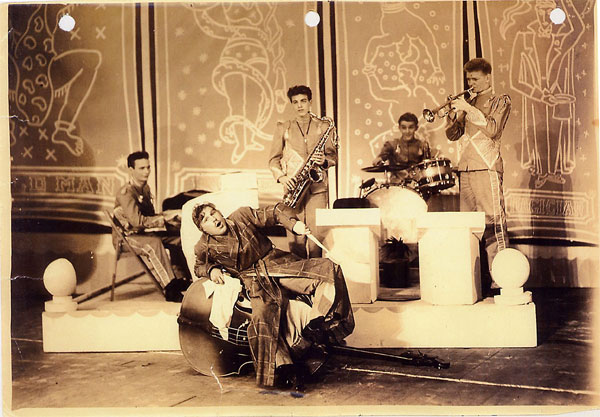 Steve Ketzer on bass at the Ernie Pyle Theatre in Tokyo, Japan circa 1947.