John L. Lenburg, was born in Gary, Indiana, on February 18, 1924. John has a younger sister Joan Garber. At the age of 18 on December 12, 1942, John enlisted in the U.S. Army Air Corps. After training Aero I.T.I in L.A., Nellis Air Force Base, Las Vegas and Clovis, New Mexico he was made a flight engineer-gunner and was promoted to the rank of Tech Sergeant. He was assigned to the 460th Bomb Group, 760th Bomb Squadron, 15th Air Force. He flew on a B-24H Liberator bomber named "Miss Fortune."
June 30, 1944 on his 36th mission his group was leading a force of 500-600 planes of the 15th Air Force on a mission to bomb an oil refinery in Blechammer, Germany. His plane was flying the number 2 position in the high box of the lead element. Over southern Hungary in the Lake Balaton area they were hit by 35-40 ME-210s. The plane was set on fire and he had to bail out.
After landing, John was rescued by two Hungarian soldiers from the wrath of a group of peasants carrying scythes, pitchforks and clubs. He and the surviving crewmembers were turned over to German military authorities. He was sent to a Military Hospital #11 in Budapest for treatment of his wounds and burns.
After several weeks he was taken to Pestvideki Prison in Budapest where he spent several weeks in the prison. After interrogation he was sent by boxcar to Stalag-Luft IV prison camp in Northern Germany. There he was put in Lager C Barracks, 1 Room 3.
In winter of 1945 this POW camp of some 10,000 American and British airmen was evacuated because of an advancing Russian Army into the area. The POWs spent the next three months on a forced march though Germany. It was an odyssey of very little food, disease and death, covering some 600-miles.
After enduring many hardships John was liberated by the U.S. 104th Division near Bitterfeld, Germany. The march became known as the "Black March" or the "Death March of Stalag Luft IV." Because of the inhumane conditions that had been endured during the march many POWs died.
Capt. Leslie Caplin a captured American flight surgeon was the medic in charge of our section, known as "C" section. He gave testimony against the camp officers and guards at war crime hearing after the war.
John was discharged from the service in October 1945. He wrote a book about his experiences in the war, entitled "Kriegsgefangenen #6410: Pirisoner of War," which can be found on Amazon.com
John L. Lenburg was a patriot to the end. Sadly, after a life dedicated to his country and fellow man, he died of heart failure on November 4, 2000.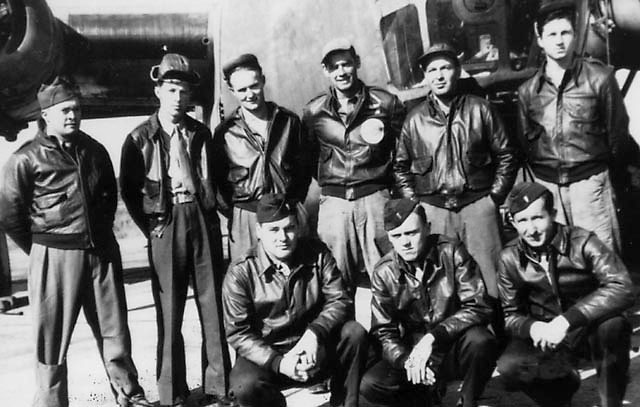 Erf's Crew: Flight Crew #3-8
Back row L to R:
T/Sgt. Ralph F. Wheeler (Kia), Radio Operator\Right Waist Gun; S/Sgt. John "Jack" M. Nagle Jr., Asst. Engineer\Nose Turret Gun; S/Sgt. Rube Waits Jr. (Kia), Asst. Radio Operator\Ball Turret Gunner; S/Sgt. Martin Troy (Kia), Armament \Left Waist Gunner; Sgt. Leonard "Pappy" Bernhardt, Asst. Armament\Tail Turret Gunnner; T/Sgt. John L. Lenburg, Engineer\Top Turret Gunner
Front Row L to R:
2nd Lt. Elder "Erf" A. Erfeldt, Pilot; 2nd Lt. Alan P. Barrowcliff, Co-Pilot; 2nd Lt. Marshall J. Brown, Bombardier; (2nd Lt. Matthew L. Hendricks, Navigator not in picture)