Jack R. Madlung enlisted in the Army 1-14-41 and was transferred to the Army Air Corp after the bombing of Pearl Harbor. In 1944 his B17 Bomber Crew were transferred from Alexandria (LA) Army Air Field to Nuthampstead (air base) England (about 35 miles north of London). They were a unit of the 398th Bomb Group, which was based at Nuthampstead.
On their 12th mission (Nov. 21, 1944) to bomb the Luena Oil Fields near Meersberg, Germany, their B17 was hit by FW 190 German Fighters. They bailed out and were captured immediately. Jack was ordered to swim across the Saale River by a large number of Gestapo. He was taken to Stalag Luft IV prison camp near Gros-Tychow in Poland (by crowded boxcars). They were kept in near-starvation conditions until they were evacuated Feb. 6, 1945 in order to escape the advancing Russians.
Th POWs then began a forced march referred to as the "Death March" because so many lives were lost due to hunger and inadequate medical care). They were liberated when the prison guards surrendered to U.S. troops at Halle. Jack had gone from 188 lbs. to 119 lbs. and had suffered very much at the hands of the German Army.
Jack was wounded by flak when his plane was hit, but he didn't receive the Purple Heart until 50 years later because his records could not be found. His friend Eugene Minchoff, Quarryville, PA, who was on the mission with him, verified the details to authorities. Gene is now the only living member of this crew.
Allen Ostrom, Editor of Flak News (Seattle, WA), included Jack and his wife Jean on many return visits to Nuthampstead where they made many wonderful friends. The Barkers' (Tony and Greta) farm at Nuthampstead was the scene of their first tour, where they held a 40's style barn dance. An English group known as "Friends of the 398th" always the stays very enjoyable.
Jack was a charter member of "Indiana Chapter of Ex POW's" started by Leonard Rose, National Jr. Vice Commander and a good friend to all the Ex-POWs. The meetings he held every other month in Indianapolis offered up meaningful stories of what it meant what it was like when soldiers were turned into prisoners.
He was also a member of Masonic Lodge, Scottish Rite, Murat Shrine, Kiwanis's, American Legion, DAV, and Past Patron of the Eastern Star. He was also a 44-year member of First Presbyterian of Monticello, where he was a past deacon.
Jack married Jeanetta "Jean" Pond on January 1, 1946. Daughters: Dr. Nancy Zeller, ECU, Greenville, N.C., Cherie Ross, Indianapolis. Son: Randy Madlung, Monticello, Indiana. Grandsons Derek Madlung, Christian Zeller, Los Angeles and John Zeller, Ft. Leonard Wood, Missouri.
Jack Madlung passed away Dec. 27, 1998. (Jean Madlung provided a layout of the prison camp in which her husband was held and a Map of the 398th's Base in Nuthampstead.)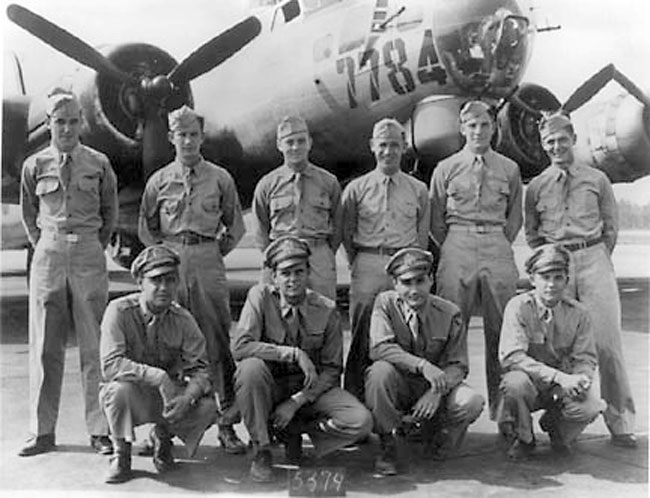 Jack Madlung's D-17 Flying Fortress Crew At Alexandria (LA) Army Air Field.
(Back Row L-R) Sgt. George V Spraggins, Sgt. John A McMenamin, Sgt. David G Morgan, Sgt. Jack Madlung, Sgt. Eugene P Minchoff, Sgt. Walter E Suggett.
(Front Row L-R) Second Lt. Kennth L Buzza, Second Lt. John G Blythe, Second Lt. Irving B Porton, Second Lt. Michael J Cingle