William F. Schmidt was born in 1925. After graduation from Youngstown-Rayen High School in 1943, Bill enlisted in the Army Specialized Training Reserve Program and attended Indiana University. He began 1944 at infantry basic training at Ft. Benning and on completion (since the ASTP program had been cut) was sent to to the Fort Bragg, 100th division. Shipping out with the division in October, the unit went on line in the Seventh Army sector with the 399th Rgt. Company E, as a PFC rifleman.
After two months of advancing toward the Maginot line, Bill was taken captive with his squad by the German counteroffensive "Operation Northwind" January 1, 1945 in a blockhouse near Bitche.
Bill was transported back to a labor camp south of Dresden in four stages on box cars. Most notable was the 90 men in the car the first night and the allied bombing daylight raid on the Hamburg rail-yards and third leg of the trip.
He was in one of the 13 labor camps of IVA, near Bad Shandau/Elbe doing pick and shovel work on the standard scanty rations. Toward the end of April he collapsed at morning roll call and wound up in the camp hospital, (a number of straw pallets on the floor of a small barracks).
As the Russians approached the Elbe river the camp was evacuated and it was every man for himself. However Bill was taken by stretcher to a house on the west bank by some fellow prisoners where he was liberated two days later.
At war's end Bill was in U.S. Army hospitals from May to December. He received his honorable Discharge on December 17, 1945. Through the G.I. Bill, received a College and Seminary education and was ordained in 1952. He served in six congregations during a ministry of 38 years.
Bill became a Life Member of the American Ex-Prisoners of War and a Charter Member of the Fairfield Barbed Wire Chapter in Ohio in 1980. He served as National Commanderin 2000-01 and was a National Director for four years, a National Jr. Vice Commander one year and a National Sr. Vice Commander one year. In addition he served as Chapter Commander of the Mid-South Chapter (TN) and also Ohio Chapter No. 1. He attended fourteen National Conventions starting in 1986.
The image of freedom and future purpose under God will give one hope to stay alive in very adverse conditions.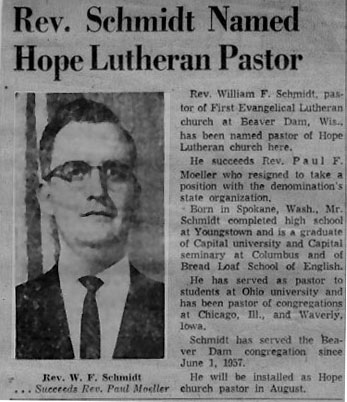 Pastor William F. Schmidt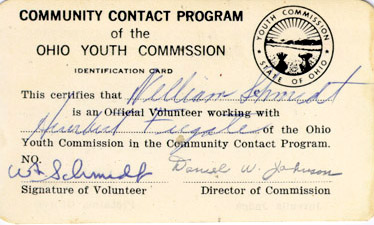 Community Contact Program Volunteer ID